Christmas 2019
For to us a child is born, to us a son is given, and the government will be on his shoulders. And he will be called Wonderful Counselor, Mighty God, Everlasting Father, Prince of Peace. Isaiah 9:6
Greetings to our Family and Friends:
As we get closer to the day that we celebrate our Savior's birth we hope that you join us in the preparations for this time and pause to consider its meaning for us all. We hope that these greetings reach you in good health. Our activities this year have again been varied and spent enjoying visits with family and friends.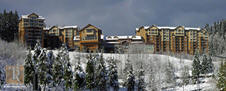 Life here at Timber Ridge continues to be pleasant, very active, with much variety, and the food is too good. Last January, Seattle experienced a snowstorm, not so lovingly called "Snowmageddon." We ventured out early one morning and on

returning saw a picture opportunity looking up at Timber Ridge. That picture, as a 48" canvas print, ended up bought by Timber Ridge and its architect as well as being sold on a 15 oz. Mug to over 200 residents and employees. A dollar of each cup went to the Employee Christmas Fund.

Carol accompanied Werner on "Danny Boy" and "Begin the Beguine", an old Cole Porter piece, with the Timbres, a resident Swing group. We also performed the "Star Spangled Banner" for Veterans Day and "Auld Lang Syne" for the New Year's party as well as leading Christmas Sing-a-longs for Christmas Floor Dinners.

Werner continues as the resident videographer for various events. He continues to produce the videos the series of lectures here at Timber Ridge on Empowered Aging and serves on the committee which he has really enjoyed. For the third fall in a row he has run a local 5K, coming in 3rd for his age group. Werner will be running another 5K shortly that benefits our church's Jubilee Reach school program in the Bellevue School district. We continue to try to make regular use of our great fitness facilities.

We have enjoyed visits from family this past year. In February we enjoyed a visit from brother Ralph. This Spring, Carol's sister, Mary and husband, Duane came down for a visit from Alaska and we joined them in a visit to the Skagit Valley tulip fields. In June we had a pleasant visit with my cousin Roy's daughters, Lisa and Holly and her husband, Tim.

Our sons and families are all very successful. Mark and Family enjoy backpacking to exotic places. This summer, Mark, Lauren and Aidan hiked the Ho River trail here in the Olympics. Zachary will be graduating this December from University of Arizona with a degree in Political Science. Lauren is a Junior and playing soccer at Trinity International Univ. in Illinois, and Aidan is a Senior in High School, playing golf and soccer and has selected Northern Arizona University in Flagstaff. In March we traveled to AZ for a visit with Mark and family as well as a visit with Tim & family in Mesa where we attended a concert performance by Tim's choir, the Sonoran Desert Chorale. Last May we traveled to Georgia to celebrate Alyssa's HS graduation. She is a freshman at Univ of Georgia. Grant is now in his second year of college. Tyler is a Senior at Kennesaw State.

Carol retired from the BelPres Sanctuary Chorus this Fall and Werner is taking a short sabbatical. Our new Director is doing a great job, a young, enthusiastic director carrying on the great musical tradition at BelPres.
We enjoyed this past season attending Seattle Sounders games and their triumphant MLS Championship. This was part of our 57th Anniversary celebration day.
We are relatively healthy, both of us experiencing various problems associated with aging.
We are looking forward to traveling to AZ soon to spend time with the family celebrating a graduation (Zachary), two birthdays (Mark & Carol) and not least, Christmas.
We wish you all a Christmas of Joy as we celebrate Christ's birth and a New Year filled with Happiness and Blessings.
Our Best Wishes,
Werner & Carol