Christmas 2012
For to us a child is born, to us a son is given, and the government will be on his shoulders. And he will be called Wonderful Counselor, Mighty God, Everlasting Father, Prince of Peace. Isaiah 9:6
Greetings to our family and friends:
As we enter another Advent season time we pray that you are joining with us in preparing for celebrating His birth and its meaning for us all. We hope that these greetings reach you in good health. Our activities this year have been many, enjoying visits with family and friends
The year 2011 ended with the whole Henn Family, Dad, Ralph, Carol and Werner, traveling to Heidelberg, Germany to celebrate Christmas with Dad's brother, Ernst. We spent ten days with him over Christmas and New Years. We attended the Christmas Eve candlelight service at Christuskirche, Dad's home church. During our ten days we visited familiar sites and ate well. It almost felt like we didn't leave Seattle, it rained every day. It was a strenuous but rewarding trip for all.
In January, Carol had major surgery on her shoulder to repair a torn tendon. Recovery went slow but ended well. It was a learning experience for both of us, working through recovery and rehab. Werner enjoyed caring for her and cooking up special meals.
In June we traveled to Winter Park, Colorado where we were joined by Mark and Brian's families for five days of fun. We rented a five bedroom house with everything we needed and more. The Grandkids especially enjoyed all of the activities (horseback riding, canoeing, archery, zip-lining, and more) at the nearby YMCA Ranch. The reunion was topped off with a delicious dinner at a local German restaurant. On the way there and back Carol and I enjoyed visting Arches, Grand Teton and Yellowstone National Parks. We loved our stay and visit with Werner's Mother's cousin Frieda and the Taubert family in Casper as well as with Werner's cousin Roy and family in Arvada, CO. This trip was the beginning of our six months of celebrating our 50th Anniversary.
In July we spent a couple days in Sequim and visited with Carol's cousin, Karla, who runs a Jazz camp at nearby Lake Crescent. In September, Carol's sister, Mary, and Duane spent a few days with us, visiting Chihuly's Glass Museum & Garden. In October, we both sang in Seattle Pro Musica's 40th Anniversary concert. Because Werner does not have enough to do he recertified as a soccer referee and is again enjoying refereeing and mentoring new young referees. He has also begun working with Greatest Goal Ministries, a mission effort in Sierra Leone, serving disabled and disadvantaged citizens of that country. Specifically, he is helping to develop their Disability Sports Association, which provides organized sports activities, including soccer, to amputees, polio victims and the deaf.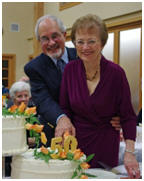 On November 10th we celebrated our 50th Anniversary with a grand party, graced by the presence of family and friends from near and far (Arizona, Georgia, New York, Colorado). We exchanged vows and were royally toasted by Brian and Mark and blessed by Dad.
We continue to enjoy singing in the Chancel Choir and the smaller Ensemble. In May we presented two works, Sunrise Mass and Dark Night of the Soul, by a young contemporary composer, Ola Gjeilo. You can hear and see video clips of our Chancel Choir and Ensemble and other musical groups at Vimeo.com/belpresmusic. Carol continues to play the piano for our enjoyment. Werner is still supporting his soccer software enterprise.
We wish you all a Christmas of Joy as we celebrate Christ's birth and a New Year filled with Happiness and Blessings.
Our Best Wishes,
Werner & Carol